Carmine's history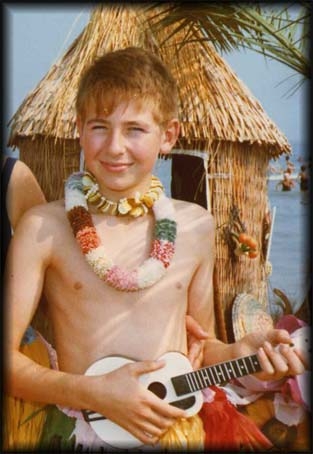 Carmine Ghersi started music when he was 7 years old, his first instrument was the accordion. After some years learning the basis of music, he switched for the guitar and learned it very quickly. He was learning from records, from scores and by playing with other musicians. After High School, he made the choice of a musical career and learn all the basics of music, like harmony, scoring, history of music, as well as sound recording.

After these studies, he worked as a composer, both for singers and for movie scores. Leading a career as a sound engineer, he worked for the french music magazines, "Guitare & Claviers" and "Music Test" where he was testing instruments. He reviewed more than 2 000 guitars, amps or effects, and made numerous factory tours (Fender, Rickenbacker, Ovation, Cort, Music Man, ...), he also attended a lot of music shows in Frankfurt, Germany, and Los Angeles, California, and Paris, France, of course. Music was still his main interest and he has composed a lot of tunes, from classical to rock, with some jazz and even an hip-hop one!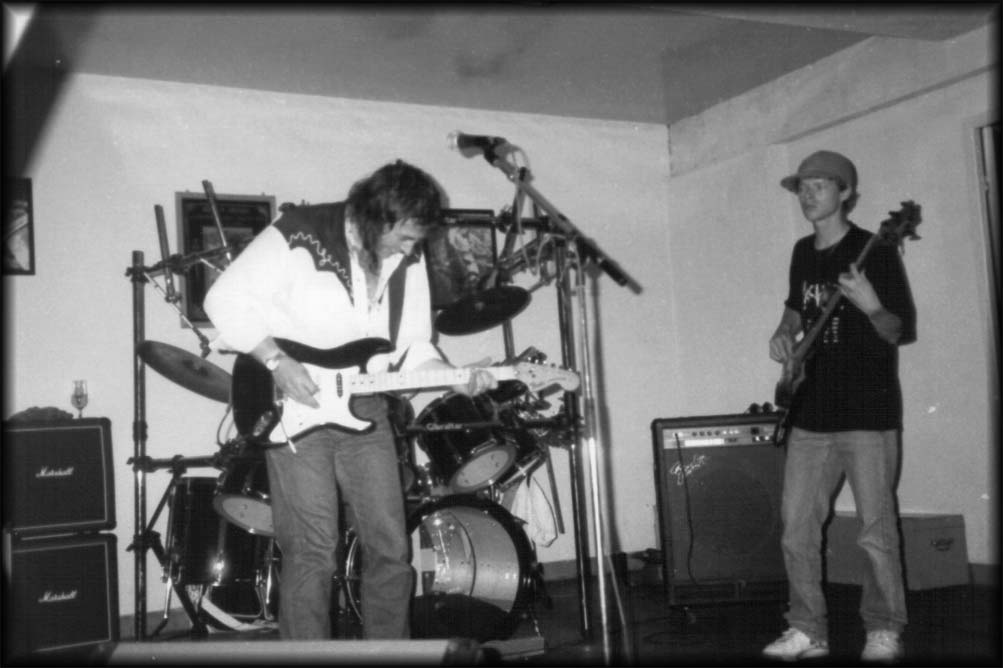 With his old friend Eric Caudron on drums and a bass player, he formed the band Sunblood, this name comes from a moutain in the Northwest Territories in Canada, "At sunset, it seems the sun is bleeding on the mountain". They performed a lot of gigs, making the audience always amazed. With other friends he played in the USA, some pure Rock in Chicago and some bluegrass music in Kentucky, leaving a strong imprint every time, even congratulated by the girlfriend of late Buddy Miles. The band released a CD "From Where The Sun Now Stands"and has fans all over the world from France to Australia and USA.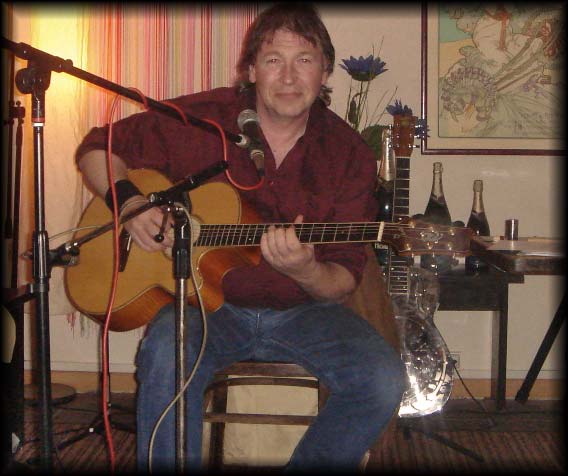 Lately, Carmine decided to make a solo career, playing the blues. First, he played cover songs but with the great success he had, he made some new ones. He's now preparing a CD with these songs, fans are so eager to have it they ask for it at every concert!





A one of a kind personality
Since his childhood, Carmine has had a lot of projects, either with music or with different kinds of art. Beside composing music for himself or his own band, he has done some for french singers, for movies, to illustrate radio programs, etc. That's why you can find a lot of different styles when listening to his music. Browse the Music section to hear his unique palette. And as a musician, he's always ready to play with other people and even work as an artistic manager. Actually, beside the Carmine Roots project, he's working on the Paradise project, with a very unusual way of singing. Three tunes are already made (Paradise, Attitude and Sunless), a fourth one is still on duty. It will be called Pahana and will reflect a part of American Indian legends, celebrating pow-wow music as well.

Carmine has his own style when playing guitar. If you don't recognize his voice sometimes, you sure recognize his guitar playing, either on acoustic or electric guitar. He has a strong right hand and a fast left one. Punchy rhythm when needed, entertaining strumming and when soloing, his guitar sings! If you're not convinced, listen to After Blood & Thunder, it is a very good example of his unique playing. When you listen to the guitar, it is not music anymore, it is a journey; Carmine pick you up and takes you to places you've maybe never been. No words are needed, he talks to you with his guitar.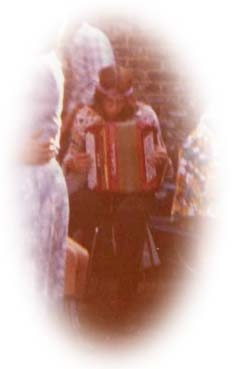 A life onstage
When he was 13, he made his first onstage appearance, it was for a dance gig, celebrating the french National Day. At 14, when he was in a youth camp, he played the blues onstage for a party on an acoustic guitar, very unusual for a boy of that age in France! And that was just the beginning. After some rehearsal with a dance band, he made some gigs but not enough. And at the age of 16, he left that band and started as a freelance guitarist, soon becoming famous in his area and working with a lot of musicians, playing every week end. During his study years, he played less for dance gigs but formed a band with a bass player called "Distilled Blues" playing in bars in the town of Brest. He was not even 20! He was running another band at the same time, "Aloysius & friends", but time was missing and they played just a few concerts.

After some years, Carmine left the dance circuit and started concerts with his brand new band Sunblood. An immediate success for this Power Trio, they played nurmerous gigs and were played on radios, both in France and abroad. Carmine played guitar in almost every posture, with his teeth, behind his head, with a drum stick, etc. Audience was amazed because it was like the guitar was playing itself, Carmine leading it in the direction he wanted. But after some years, time was missing for the members of the band and they stopped playing onstage.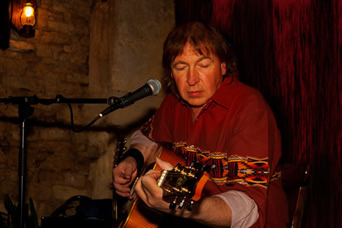 Now Carmine makes a solo career with an acoustic guitar and entertain the audience with both old and new songs. For a lot of them, people are singing and clapping hands, some of them singing the tunes days after the concert when no record is avalaible yet! His technical skills allow him to play rhythm, bass and lead parts at the same time, and even percussion! He focuses onstage with what has always been what he cherish the most: Blues and Old Time. No wonder why his new show is called Carmine Roots!

Leave the last word to a fan: When Carmine stops playing and leaves the stage, his shadow is still playing in front of your eyes…

Check the music of Carmine in the Music area.